Overview
The City of Wolverhampton Council is embarking on a mapping exercise for Dementia support services in the community to understand the impact of COVID-19 on services and people affected by Dementia.
The Joint Dementia Strategy 2019-2024 priorities focus on developing a whole system pathway. The following priorities are stated in the Strategy:
Playing our role in prevention, by promoting healthier communities and supporting the NHS Health Checks programme - raising awareness of Cardiovascular dementia and younger onset

Raising awareness of available support for dementia and sharing this information with agencies and people affected by the condition. This includes working with partners across health and care to improve the quality, completeness and linkage of data. This also includes work with Black Asian and Minority Ethnic communities, the deaf community, and adults with sight loss, to promote engagement and improve outcomes within all communities.

Working with GPs to ensure co-ordinated support throughout a persons dementia diagnosis

Strengthening our offer around community support, including proactive support for people awaiting diagnosis and improved post diagnosis support.

Enabling people with dementia to live in their communities for as long as possible by ensuring a wide range of support. this includes connecting people to existing support such as existing community groups, frailty pathway, and integrated health and social care

Extending the cultural and leisure opportunities available to ensure that people living with dementia can connect to their community and have opportunities to do the things they enjoy.

Redesigning community services to facilitate a range of support that can meet people's needs, from young onset dementia to early stages and advanced dementia.

Strengthening our offer to carers and people affected by dementia by reviewing respite and day support.

Developing the support which helps people stay in their own homes, including care and nursing homes, thereby reducing avoidable hospital admissions and equipping people well as their dementia advances.

Connecting people to services and support early to avoid emergency crisis situations – this includes Advance Care Planning to enable a good death.

This is the Living Well Pathway which demonstrates our intentions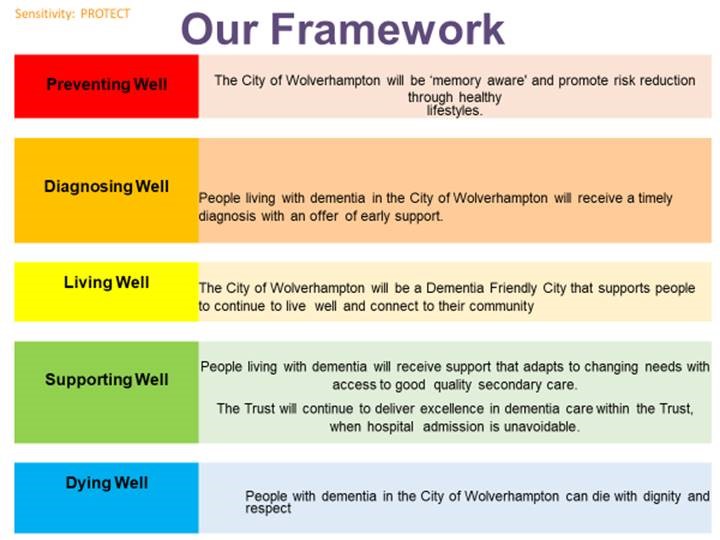 In the first instance we are keen to capture what services remain operational and to understand the offer for people living with Dementia and their carers, to access services is. We also want to hear about your experiences to help us understand further ways we can support you to ensure you can continue to deliver support to people affected by dementia.
For further details on how the information you provide will be used, please read our privacy notice.
Clicking the "I agree" button below indicates that:
you have read the privacy notice
you agree to take part